Curriculum
At St Stephen's school we believe that every child, whatever their individual need or ability has the right to receive quality first teaching through a broad and balanced curriculum. It is our aim that every child reaches his or her potential through a hands-on Creative approach to enable learning to be a rewarding and enjoyable experience for everyone. Everything we do at our school is focussed on improving children's learning, attitudes and behaviour.
Aims and Objectives
We believe that people learn in different ways. At St. Stephen's school it is our aim to provide a rich and varied learning environment that allows children to develop their skills, attitudes and abilities to their full potential.
Through our teaching we aim to:
Enable children to respect and value the Catholic community in line with the mission statement of the school and help them to feel valued as part of that community.
Develop children's self-respect and encourage children to respect the ideas, attitudes, values and feelings of others.
Foster children's self-esteem and help them to build positive relationships with other people.
Enable children to become confident, enquiring and independent learners.
Show respect for all cultures and, in doing do; promote positive attitudes, values and feelings of others.
Help children to grow into reliable, independent and positive citizens.
We plan a Creative Curriculum based on the new National Curriculum Programmes of Study and the levels of attainment in RE derived from the Bishops conference.
We have high expectations of all children and our teaching reflects this. Using a 'no hands up' approach with skilled questioning encourages the children to think at a deeper level and allows all children to succeed. Fostering a positive atmosphere, where children are allowed to learn by their mistakes, encourages independent learning for all children.
Teaching is differentiated according to individual need, ensuring all tasks are matched to the children's level of ability. When planning for children with Special Educational Needs, we refer to individual provision maps for specific targets.
Creative Curriculum
The Creative Curriculum is a rolling four year plan through which the National Curriculum is taught. The topics it covers are:
Year A - Sticks and stones, Planet Earth and Rotten Romans.
Year B - Something Scottish!, Viking Invasion and the Olympics.
Year C - Dungeons and Dragons, Rule Britannia and Sweet treats.
Year D - Caps and bonnets (Victorians), Mummies and Daddies and Sport around the world.
The link below provides more detail on the subjects covered and the focus for different classes.
Whole school creative curriculum
Each class has its own individual plan for year. Please see the individual class pages for the annual plan and newsletters for what will be taught each year. If you have any further queries please do not hesitate to contact your teacher or the school.
Foundation Stage – Nursery and Reception Class

The EYFS curriculum is planned and assessed using the three prime areas and the four specific areas:
The Three Prime Areas:
Communication and Language

Physical Development

Personal, Social and Emotional development
The Four Specific Areas
Literacy

Mathematics

Understanding of the World

Expressive Arts and Design

National Curriculum

The core subjects are English, Maths, Religious Education (RE), Science and Information and Communication Technology (ICT). The foundation subjects are Music, Art, Physical Education, History, Design Technology and Geography. For each subject programmes of study set out what pupils should be taught and attainment targets set out the expected standards of pupils' performance.
On-going assessment is also vital to inform our planning. Children are more formally assessed in line with national expectations at the age of 7 (Key Stage 1) and 11 (Key Stage 2). Pupils in Year 1 also take part in a Phonics Screening test at the end of the year.
Currently we are in a transition period, since the removal of National Curriculum levels descriptors and the implementation of the new curriculum. During this period of transition we will continue to use the existing National Curriculum levels and work in partnership with other schools within the Diocese to deliver a more up to date system for assessment.
(Link to Current National Curriculum)
English
We aim to provide a curriculum that enables all children to attain their full potential in literacy. We provide the experience of language within a structured, progressive, balanced and varied programme of study. We also recognise the early language experience of children outside school, including the use of a second language.
In Speaking and Listening, children have opportunities to participate in a wide range of activities, for example, collaborative work in groups or pairs, sharing opinions, questioning, debating, role play and performing.
Mathematics
In the teaching of mathematics we aim to enable children to be actively involved in experiencing the mathematical curriculum in a variety of ways. It is important that not only do they develop their understanding of mathematical concepts, but they also acquire skills that they will need to use in everyday situations.
From Foundation stage to Year 6, children are given opportunities to develop mental and oral skills, to learn and practise basic skills in number, shape, space, measures and handling data and to apply those skills to problem solving tasks and investigations.
We use a variety of approaches and resources to support Mathematics teaching and to ensure that our children are taught at a level that both supports and challenges their mathematical understanding.

Science
We use a variety of teaching methods to deliver this important subject, but mainly we teach through scientific enquiry. Science is an integral part of modern life and we aim to challenge our pupils and stretch their imaginations.
The four attainment targets are: enquiry, life process, materials and physical processes.
In KS1 pupils observe, explore and ask questions. They share their ideas and communicate them using scientific language, drawing charts and tables.
In KS2 pupils learn a wider range of scientific knowledge. They carry out more systematic investigations working on their own and with others.
Information & Communication Technology (ICT)
At St Stephen's School we believe that ICT is a key part of our children's learning. The children have ICT sessions from the Foundation Stage up to Year 6, and, wherever possible, the technical skills they are acquiring are set in a cross curricular context. This learning commitment is supported by the school's networked computing system which links the classroom and the ICT suite computers to the Internet. Access to "inappropriate" sites is blocked through North Yorkshire's Learning Net. The computer system is backed by a wealth of ICT resources, ranging from digital microscopes, cameras, and monitoring devices, to floor Roamers and the computer programmable Lego system. There are interactive whiteboards in every classroom.
Art & Design
Our children are encouraged to work with confidence, thoughtfully and independently using a wide range of techniques and materials such as paint, clay, card and fabric thread to name but a few. By observation and experiment, children develop an awareness of colour, shape and texture in the world around them and an ability to express their response to it. Our children's work is displayed around the school and in classrooms. Children in Reception also bake every week. Their baking is linked to their learning or topic. They measure the ingredients, develop their pouring and cutting skills and enjoy the end product.
Music
All of our children have class music lessons in which they play a wide variety of games encompassing listening, composing and performing. This is also a chance for the children to share their talents by performing to each other during assemblies, hymn practice, in the school choir and at local music festivals.
At St Stephen's we have lots of extra-curricular musical activities, every child has the opportunity to learn to play the recorder. Music teachers offer tuition in singing, playing the guitar, keyboards, drums, woodwind, string and brass instruments.
Design Technology
Children are given the opportunity to develop their design and technology skills by combining their designing and making skills with knowledge and understanding in order to design and make products.
From an early age our children enjoy constructing models and are asked to explain processes they have gone through. Children are encouraged to plan their designs and choose the materials they will need from a wide selection of resources.
During their making they are encouraged to discuss and evaluate their progress in order to improve their design where it is needed.


History
In our study of history we aim to foster in the children an appreciation of change and continuity, an awareness of the nature of evidence, an empathy with the past, an ability to pose historical questions and a sense of chronology and time.
Our children learn about famous people, events and developments in British history, and also study an ancient civilisation. Our curriculum aims are supported and enhanced by visits to places of interest, visiting speakers and special curriculum days during which the staff and children dress up and take part in historical role play activities
Geography
Geography is the study of the environment, local to global, and the physical and human forces that shape it. In order to develop a true understanding of their environment, we encourage our children to ask questions about and show an interest in their surroundings.
The children develop a knowledge of distant places and different cultures and are encouraged to care about the world they live in, appreciating the effects that humans have upon it.
Map skills and aspects of physical Geography are taught in the context of the places studied.
Physical Education
Our Sporting Aims are to help children to:
Participate in physical activity and develop a healthy lifestyle.

Develop and understand the importance of good sporting behaviour.

Learn how to be part of a team.

Value both group and individual achievements.

Take part in competitive activities.
In addition to the National Curriculum programme of study for PE and Games, children in Key Stage 2 take part in district and school competitions in the following sports: netball, rounders, football, cricket, athletics, rugby, swimming, basketball, tennis and aqua splash.
In Key Stage 1 there are running and football clubs at school and multi-sport afternoons at Aireville or Sandylands. From Year 3 children can also join the cricket club as well as lunchtime clubs run by the Specialist Leaders. Swimming takes place at Craven Pool for Years 3 – 5 and for any Year 6 pupils to help them attain their 25m proficiency.
All of the children at St Stephen's are encouraged to take part in sporting events and the annual Sports Day, which is held in the summer term.

School Club Links
We have links to Skipton Tennis Centre, Skipton Cricket Club, Skipton and Wharfedale Rugby Club and Skipton Table-Tennis Club. Coaches are often in school or children visit the clubs to participate.
The Craven Sports Partnership and Oakbank Sports Partnership enable pupils to take part in Level 2 and 3 competitions at various venues against other schools. This has given many pupils a chance to show their skills at a higher level with success.
Religious Education
Our children also learn about all the major world religions and we aim to foster links with other faith communities.
The ethos of the school forms the basis of its moral education. We expect everyone in the school to show consideration and tolerance for others.
We follow "The Way, the Truth and the Life" programme to meet the Diocesan levels of attainment for R.E. This aims to teach children about religion and to ensure that they learn from the moral teachings of religions.
Assembly or Collective Worship is held every day and takes a variety of forms, including class collective worship. We end the week with a whole school celebration where we can share in the work and achievements of the children.
Should parents not wish their children to attend collective worship or Religious Education, they can be withdrawn and suitable arrangements may be made following consultation with the Headteacher.
Christmas at St Stephen's church.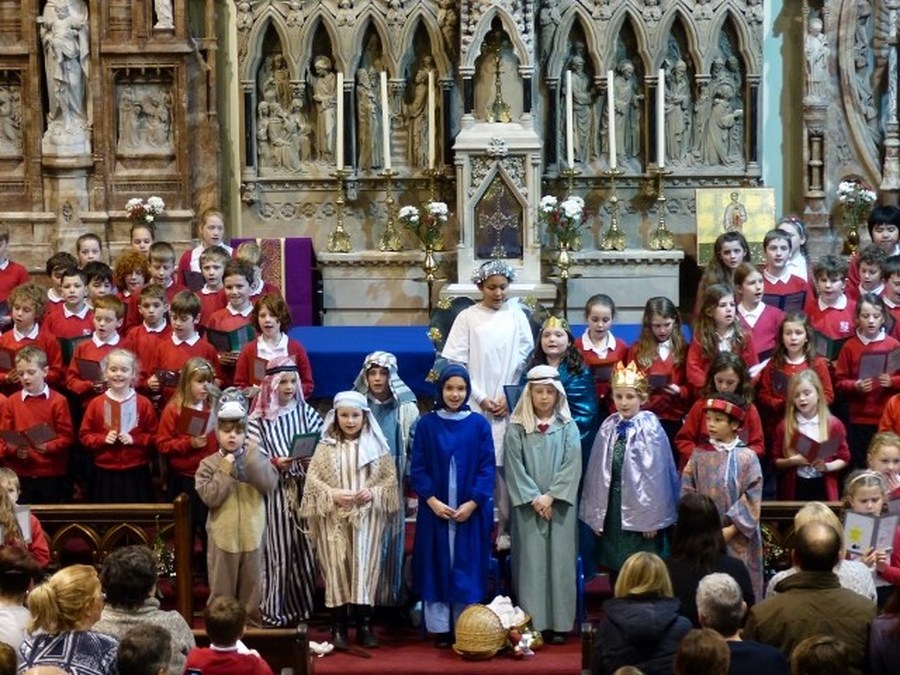 Personal, Social, Health & Citizenship Education (PSHCE)
This programme of study incorporates Drug education and Education in Personal Relationships. PSHCE provides essential knowledge, skills and understanding for all our pupils.
In our school we aim to ensure that all our pupils will value their achievements, deal with risks, meet the challenges of life now and in the future and identify their values and strive to live up to them.
Pupils are encouraged to become involved in the running of the school through our School Council. This includes decision-making, taking responsibility and learning about democracy.
Education in Personal Relationships (EPR)
The National Curriculum does not define sex education as a subject to be taught separately from other subjects. In the younger age groups, EPR is not taught formally, although we do recognise the need to answer questions raised from time to time, taking into consideration the level of maturity of the child.
As part of Health Education, in Upper KS2, we adopt a more formal approach, where children have specific sex education lessons. Parents are invited into school to see a DVD and discuss the content of these lessons with the class teacher and school nurse before it is addressed with the children. Parents have the right to withdraw their child from these lessons if they so wish following consultation with the Headteacher.