Little Fish to Big Fish
Little Fish to Big Fish
13 March 2017 (by sesner)
This year during Lent we will be supporting the work of CAFOD and Catholic Care through the Good Shepherd appeal.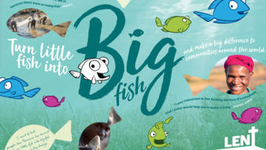 On Wednesday morning 15th March we will be welcoming Pam Lloyd from CAFOD who will speak to the children in assembly about the 'little fish to big fish' initiative. The children will hear the story of Florence, a fish farmer in Zambia whose work has enabled her to provide school books, food and clothing for her children. After the assembly each child will bring home a fish shape which we would like them to decorate by sticking as many coins as you can spare onto the fish and then return the decorated fish to school on Monday 20th March. The coins will then be counted and divided equally to support two charities; the Good Shepherd appeal and CAFOD.
Please do your very best to help us to raise money by turning a little fish into a shiny fish and donating what you can to support these very worthy charities.